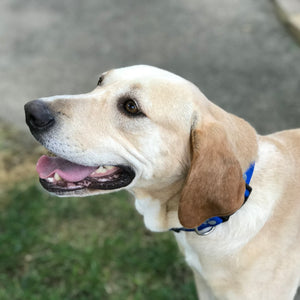 Orla
---
Adopted!
LIKES: Daily walks! Squirrel watching. Toys to chew on!
DISLIKES: Too much chaos. Waiting for a forever home!
Hi everybody! It's me, Orla, with great news - I am available for adoption!! Let me tell you about myself. I'm your golden princess - no kidding, that's what my name means! I was adopted out back in summer 2018 but then came back to MLRR at the beginning of this summer. I was returned for being aggressive but I really have fear-based aggression. Basically, it means that I have a lot of anxieties and when I get scared, I react inappropriately. But I have been working with an amazing behaviorist and a positive, force-free trainer for the past few months. And good news - I've come a really long way since my foster family brought me home back in June. Believe me when I say that on medications, I am a totally different dog! In fact, I've become quite calm, cool and collected in my foster home.
My foster home is kind of chaotic so it was a big and scary adjustment for me. I live with three teenagers, a dog named Eva and MLRR alums Jack the puppy and Ella the senior. Jack, aka Blackjack, is my BFF, although he's pretty much your typical annoying little brother. He's always trying to get me to play and jumping on me when I'm trying to relax. I'm very good with him, though my foster parents say I really should put him in his place sometimes. It's okay, he's cute and silly and he just cracks me up! While I live with three other dogs, I really think I should be an only dog or at least only live with one other dog. I had some issues initially with Ella when I arrived. My behaviorist said it was because I was pretty scared and also was resource-guarding my foster parents. I also was exhibiting a lot of attention-seeking behaviors - jumping up for attention and being a bit obnoxious about it. But now I'm learning to keep my paws on the floor, and my foster family is constantly putting deposits in my "trust" account when they train me so that is pretty cool. I know they would never let anything bad happen to me. And they would never use aversive training techniques, which really only heighten my fears and make them so much worse.
The trainer who has been working with me has taught my foster family a lot of counter-conditioning techniques to help me overcome my fears and instead replace those negative thoughts with positive associations. Counter-conditioning is really key for a dog like me. I don't know why I get so scared sometimes, but I do.
I LOVE my crate - it is my safe spot! My crate is so very nice and cozy with extra pillows and blankets. It's the perfect spot for me to go chill when people come over. I'm sometimes ok with visitors but after a little while, I get overwhelmed and I start to melt down so it's best for me to keep visits short and sweet, or just let me hang out in my crate with a treat-stuffed Kong or another special toy. I really LOVE, LOVE, LOVE walks around the neighborhood! I used to sometimes get a little scared to go on walks but I've made some human friends - when I see them in the distance, I get super excited and I can't help but run up to them and shower them with kisses! I don't like it when the teenagers have to go to school so I'm not allowed to go on walks when they are walking to the bus because I cry and try to go to school with them! I would do best with older kids, if any, because I do startle and younger kids might not understand how to handle a dog like me who gets scared easily.
When I'm happy, I make this funny little smile. Actually, it's not such a little smile - it's a big, huge grin! And I also like to stand on my hind legs and wave my paws hello at you. I know some basic commands but you'll need to start over on training with me - I need deposits in my "trust" account! I know sit, come, down, shake, stay and off. I am learning how to "touch," or hand target. I sit and wait for my food. Sometimes, I'll even give you my paw first while waiting for you to put my food bowl down.
I really like my foster family but I'm looking for a special forever home. I would prefer a quieter home - I don't really care about being the life of the party, if you know what I mean! I know I probably sound like I'm high maintenance - my medications and continued training as well as visits with the behaviorist are not optional. But, I'm a really sweet girl who got off on the wrong start in life and I deserve to find the best family out there. Could you be the one who truly gets me? I promise you that if you are willing to really invest the time, patience, love and energy that I need, I will shower you with love in return. Are you interested in bringing this golden girl home? If you are an approved adopter, please email placement@mlrr.org.
Age: 2 years
Gender: Female
Weight: 55 lbs
Dogs: Mostly good
Cats: Unknown
Children: Good, but should only be placed with older children
Energy: Low to medium
Original Post Date: Nov. 7, 2019