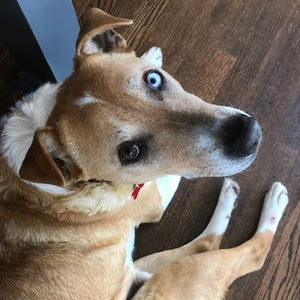 Jett
---
Adopted!
Likes: People and dogs of all shapes and sizes, having someone pet me and give belly rubs, long walks around the neighborhood, chew toys and being on squirrel patrol.
Dislikes: Not being in a forever home! Really that's about it - I have a very positive mental attitude.
Hello friends - it's me, Jett! I am a 7-year-old Lab mix. Come on, aren't I just the cutest dog you've seen? Check out my beautiful eyes and coloring. People are always stopping my foster mom to pet me and compliment me on my good looks. When they do, I roll over and give them my paw hoping for a belly rub. Yes, I know rather shameless of me but I LOVE the attention. My brother Scotch and I were owner surrendered through no fault of ours, I may add, and the kind people at MLRR are making sure we get the love and care we deserve in our new forever homes.
I live with a foster mom and dad and their MLRR alumni dog and let me say, when I arrived, it was a love fest all around. My new foster sibling is kind of old so he doesn't play as much as I would want, but we hang happily together and share everything. I've adjusted easily to my "new" home and routine. Someone at my last home didn't allow me on the couch, so I simply place my paws and head on any human laps when they are sitting down. That way, I get the most pets and kisses! When the humans go to work, I go quietly into my crate, where there are always a few treats or a yummy chew toy. And when they get home, we go on the BEST walks! I don't remember if I ever walked with a leash, but I learned quickly. Now, I trot along with my tail wagging and only pull if a squirrel looks at me funny.
I will brag a bit… I already know how to sit, stay, down, wait, come, etc. Basically, I am a rock star when it comes to training. I am always looking at my foster parents for direction and am very intuitive. Here's an example. When I arrived here, it was raining and so my foster mom led me through the garage to wipe my paws. I sat quietly and let her tidy me up. Now, when I come in from the backyard any time, I sit patiently by the garage door because that's how it works around here! Yes, I am a rule follower. My foster family has been waiting for me to counter surf, grab a sock, chew a table leg, bark a lot, but that is not how I roll. Pretty perfect wouldn't you say?
So what do you say? Am I the perfect match for you? I think so! Just look into my soulful eyes and try to say no!!
Age: 7 years old
Gender: Male
Color: Tan and White
Weight: 60 Pounds
Dogs: Good
Cats: Unknown
Kids: Good
Crate: Good
Energy: Low but will play with other dogs and go on long walks
Original Post Date - March 29, 2019