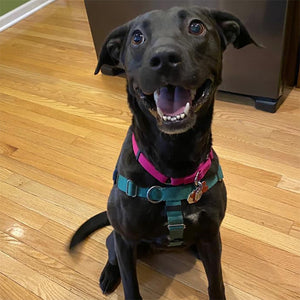 Bailey
---
Adopted!
Hey Everybody! Bailey here and I wanted to let you know I am what my foster mom and dad call a "rescue jackpot!" I am a sweetheart who is about 3 years old. I haven't had the best luck in the past, but I am ready to find my forever home and be your new best friend. I am a mostly black, petite lab mix. I could stand to put on about ten more pounds and that should not be hard because I love food! I also really love snuggling; I have been told I am not a lapdog, but I don't think that is true! I also really love taking walks and playing with my toys but I won't bother you at all to do these things, I am happy to lay around and wait for when the time is right for you to play.
If you are considering making me a part of your family, there are a couple things you should know about me. First, I am heartworm positive, but the good news is that is not a big deal, I am finishing my treatments soon and will be good to go! My foster fur-sister was a HW+ doggie too and she tells me I can run, play and do everything a dog does once my treatment is over! Second and most important, I cannot have any cat siblings, that is my only firm NO. I am really good with people and kids and other dogs (as long as you take the time to make the introductions smooth) but I am not cat friendly. Third, I know a ton of really good commands, sit, come, and I am 100% house broken, but I need help walking on leash. My foster papa has me wear a really cool harness and it helps a ton, and it will come with me to my forever home. I am definitely food motivated so training should be easy-peasy. Lastly, I haven't had to spend too much time alone because we are all stuck inside right now but if you do leave me home alone make sure to keep food off your counters and give me something like a yummy Kong to keep me busy! I'm not much for the crate but I do well with a baby gate to keep me out of trouble.
I just really want a forever home and I will be your best bud, I promise. I am sweet and just want a family to call my own. If you think I am the girl for you lets meet and see if we can make this official!
Bailey is eligible for our Direct Adoption Program. This program is for MLRR Approved Adopters interested in puppies less than 1 year old, dogs over 7 years old and medical case dogs, including dogs that test positive for heartworm. An Approved Adopter takes ownership of the dog for a 2-week wellness period. That time is extended for dogs with extensive medical needs (like heartworm) since treatment times are typically longer. During the wellness period, MLRR covers all medical expenses. Once the treatment is completed, the adoption is finalized.
To participate in MLRR's Direct Adoption Program, please complete an Adoption Application here: https://mlrr.org/pages/adoption-application
Age: 2
Gender: Female
Weight: 55 lbs
Color: Black
Dogs: Good
Cats: NOT good
Children: Good
Crate: Not great
Energy: Low-moderate
Updated - May 29, 2020
Original Post Date - Feb. 26, 2020