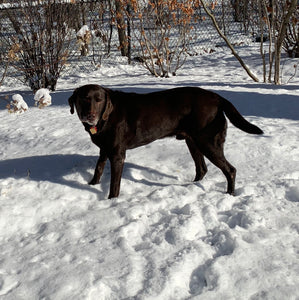 Rollo
---
Adopted!
LIKES: Walks! Soft, squeaky toys! Playing with my foster brother!
DISLIKES: Waiting for a forever home!
Well this is just the best day ever! As a beautiful "chocolate," I love Valentine's day. And, maybe today my furever family will read my story and fall in love with me.
Of course, I am named after a chocolate candy and like "Rollos," I am a gorgeous dark chocolate on the outside and sweet on the inside. I have been told that my fur is soft and fluffy, perfect for constant petting!
How did I arrive with the good folks at MLRR? Like many of the other furbabies, I have had some good times and some bad times. I was rescued a year ago by a wonderful owner who saved me from a shelter. We had a great life together until he passed away recently. The next thing I know, some angels drove me in a snowstorm many hours to my new foster home here . Even though I was very anxious when I arrived, I knew that my foster brother and parents were going to take good care of me. I quickly adapted to my new routine and have made myself right at home.
First of all, I am so excited to have a foster bro to play with. Although he's old (no offense, Brownie), he's really nice to me and has welcomed me on his couch. We have a big, fenced yard to play in and go on walks together. Full disclosure, I am just getting used to this leash stuff and still pull when I get excited walking around the neighborhood. I have discovered that toys are awesome! The soft, squeaky kind are my favorite and I have a big pile of them next to my bed. And speaking of beds, I actually like the couch the best. I would love to sleep with the family upstairs, but for some reason, I am very scared of the stairs. With a few treats and some patience, I will learn that good things await me on the second floor! And, I have to admit that the nice, big crate here in the kitchen is just not my thing. Even with yummy treats in there, I run the other way with my tail between my legs. Yup, some bad history there.
But good news! I have never had an accident and haven't chewed anything, even the fuzzy slippers just lying around. If you think that is impressive, let me brag further. I know how to sit, stay, wait, give paw and lie down. I am calm and happy when my paws get wiped and when my harness goes on for a walk. I don't rush out the door or jump on guests. I love every person I've met especially if they give me a treat and rub my belly.
Although I'm content with my foster brother when my family leaves for a few hours, I love when they come home and I can be next to them at all times.
But what I would ask for this Valentine's Day is to find a furever home with a family that would always love me. I promise to love you back! If you are an approved adopter who would like to meet me, please email placement@mlrr.org.
Age: 6 years
Gender: Male
Weight: 78 lbs
Dogs: Good
Cats: Unknown
Children: Good
Crate: Does not like
Energy: Low to medium
Original Post Date: Feb. 15, 2020